UWR Store
Buy Event Accessories, Certificates, & Books.
Unique Record Holder's
Special Certification Pack
This pack includes Official Unique Record Holder's Certificate, Covering Letter, ID card, Medal, Batch, and Memento.
MRP. ₹ 7500/-
---
Note: Only for Participants not for Record Holders!
Record Participant

Certificate

Participants can directly order Participant Certificates through the website by providing the details of the record. The Charge of this Service is Rs. 500 + (Rs. 200 Courier Charges) per participant certificate, you may order additional paid accessories during checkout.
MRP. ₹ 700/-
---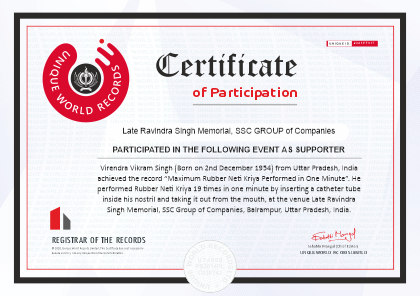 Note:
For countries other than India, please Contact Support to receive the Invoice to pay the certificate fee along with the postal charges as per your country.
Contact Support